Importance of Online Presence for Business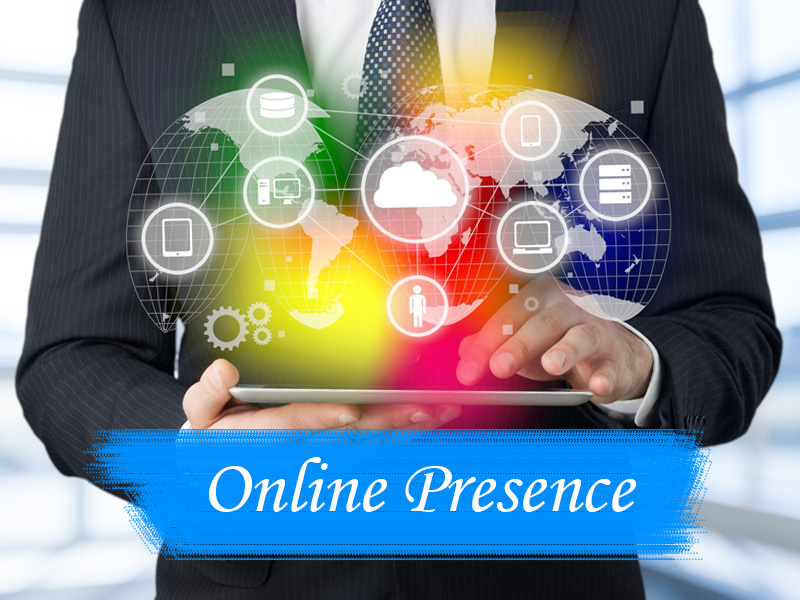 How robust is the presence of your business at this point ? You own a physical store, you have a bunch of old customers who are very reliable and most of all you have a steady income that's enough to make a healthy living. But, is it enough? Ask yourselves, a clear-cut answer will come out of your head and I know what it is – A big "NO". Gone are the days when a physical store was enough to enhance the creditability of your business. With the current innovations in the digital world, people are being drawn towards a more convenient and reliable market – Online Market.
As an entrepreneur, you must always foresee future growth and it is impossible without adopting modern and effective marketing strategies. One of the interesting ways to allure your customers and prospects is to make a strong online presence. With the latest innovations, lots of things have changed including the way we interact, communicate and even do business. Today, people are turning towards a more advanced and sophisticated medium – Internet. There are billions of people worldwide who purchase their clothes, gadgets and even groceries from online stores. According to Google – "more than 90% of buyers use the internet to search for local business", so just step back and think about the things you could be missing by excluding web presence from your business. So, having a strong online presence is not just recommended it's essential to survive in this competitive market.
Not enough, we've gathered five important points that should motivate you to build an inter-web presence.
You'll have a Virtual Store to Offer 24 hours of Customer Service
Imagine, having a virtual store which offers 24 hours of hassle free customer service. And what if we tell you it's possible; the internet has the potential to showcase your business 24 hours a day. Having a virtual online store provides great efficiency to your retail value chain and paves your path towards a successful electronic commerce. Your customers will be able to find your products from any location, while you relax at home. It even allows oversea clients to connect with you; there might be millions of people worldwide searching for similar products and services. In all cases, having an online presence will help your customers to connect with your business whenever necessary.
You'll improve Your Customer Service
After establishing a strong online presence, you will see people coming to your website and social media platforms with the issues they need resolved. This provides you a great opportunity to provide an excellent customer service and inspire new customers to connect with you. Responding to their queries frequently will result in satisfaction and inspire them to convert from normal audiences to a raving fan. Chances are they will spread the word for you online and tell their friends and family about your excellent service. This will help you to establish a better bond between your company and clients which will result in better sales and new customers.
Ensures Long-Term Marketing Success
An informative website coupled with well-written content and graphics enables your customers to make an informed purchase. On the other side, a strong web presence offers you a cost-effective and efficient platform to reach a wider audience compared to traditional marketing practices. An excellent website reinforces your brand and helps you stand out among your competitors. In all cases, having a strong online presence is a must regardless of the size of the business and the industry it belongs to.
Reduces Overall Expenses
Building a decent website is not a huge investment. There are tons of web-service providers who will build your company's web portfolio from scratch. Most service providers use a general template and create a website by analyzing your company's need. But, if you are willing to throw in some cash, you will be able to design a full-fledged website which will help you to accomplish your long-term goals. Latest e-commerce technologies allow you to take your entire business online including billing, shipping, management, procurement etc. Managing your entire system will allow you to cut cost in almost every sphere of your business.
Helps You to Establish a Better Corporate Image
To establish a distinct corporate presence you need to have a strong web platform. Otherwise, people and big corporate houses will not take your business seriously. A good website will help you to establish your brand's image in front of your clients and prospects. A well built corporate site will enhance the image of your company if it has great services and products to display. Besides that, it will also help you to connect with international clients and expand your business.
Summing-Up
By adopting modern marketing strategies you can become a global player in an instant. For this, you don't have to invest a large amount of money, there are tons of web-service provider in the market who can aid you to take your business online. These service providers will allow you to create a decent website in a nominal budget. So, if you don't have a web presence then don't hesitate to invest. In the long run, it can take your business uproariously into the new heights of the business world.