How to Set-Up an Effective Content Marketing Plan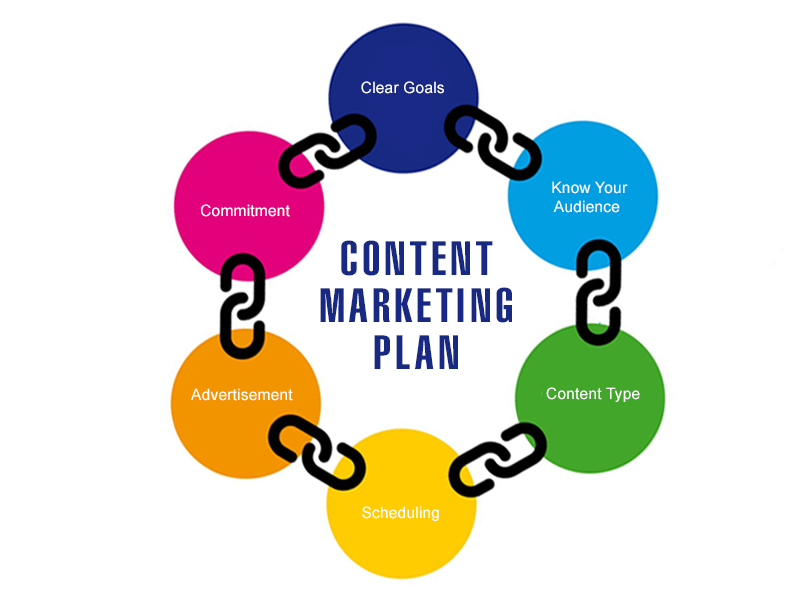 With content marketing becoming the hot advertisement medium, every business wants a piece of it. In simple words, everyone is pursuing content marketing as their ultimate marketing strategy. So, how do you stand at the forefront of the content marketing battlefield and stay undefeated? You make a plan; most likely a full-proof plan. And here is how to achieve that.
Clear Goals: Before you start up with content marketing, you need to first set your goals. The goals should go hand in hand with that of your company or brand. And depending on your brand the goals will vary. You might want to be seen by possible clients or reach a large audience or just sell your products. The key is to know your objective before you start running after success. Your success is defined by whether you can achieve the set goals in the next 12 months.
Know your audience: This applies in all works of life. By the rule of thumb, your work isn't considered efficient if you don't know its audience. For a service to be effective, the service needs to reach people who will actually use it. And don't create a flimsy idea of who these people are; try to be specific. Try to answer questions like, what age group they belong to and what kind of social media they hand out in and what do they look for on the internet. Think like the community you want to cater to.
Your brand is your content: There is no point in putting efforts to content marketing, if you aren't representing your brand in the content. Give your audience some cues or direction as to where to head next. Some effective ways to do so is to use your company or brand's color in the content or use logos. Throw in your company's name here and there, but don't make it too obvious. The bottom-line is to amplify your brand or its service's nature in the content.
Tell stories not facts: What many people fail or ignore to do is give their content a personality. Specifically, the company's personality. So, when producing contents it is wise to give anecdotes and stories of your company that are more interesting and relatable, rather than facts and figures that are clearly boring.
Content Type: With the advent in new mediums and platforms in internet, one is bombarded with a wide range platforms to use and thus different content types. Your content can be videos, audios or written articles. You can also choose the nature of these contents: tutorials, interviews, infographics or guides. Determine your content type, depending on the type of brand or company you are.
Commit to a schedule: It is of utmost significance to be consistent in delivering content to your audience. Keep them affixed. A schedule helps you do that more efficiently. For instance publish blog every day and two posts a day on your social media site. Don't let your audience slip by because you couldn't keep them interested. Remember, as long as your business is alive and thriving, customers will notice. Stick to the schedule and try not to fizzle out.
Easy contents: Studies show that people are easily attracted to bullet articles than an uninterrupted one. This applies to all sorts of content marketing mediums. If you are into content marketing via content writing then try to keep the articles short and easy to read and understand. Add graphics to make it attractive. Similarly, long videos are boring, so keep them brief, while still giving the message.
Advertise your content: When all is done, there is no point of painstakingly creating content if they are not reaching your target audience. The first step to this is sharing. Post it on all your social media sites and include them on your website and emails. Once that is taken care of, try promoting the content via paid search or the likes and advertising it in your retail stores or via other business and service.
To ensure that you follow your plans, try writing it down first. Then follow it. With lots of hard work and a little help from luck, you will see the shining face of success six months or a year down the road. Well, that is how long it takes for a business to find a solid ground.